Thank you Tate+Lyle® Gourmet Beverage Syrups for sponsoring this post. Take a moment and reward yourself with café-style coffee and beverages at home with Tate+Lyle®!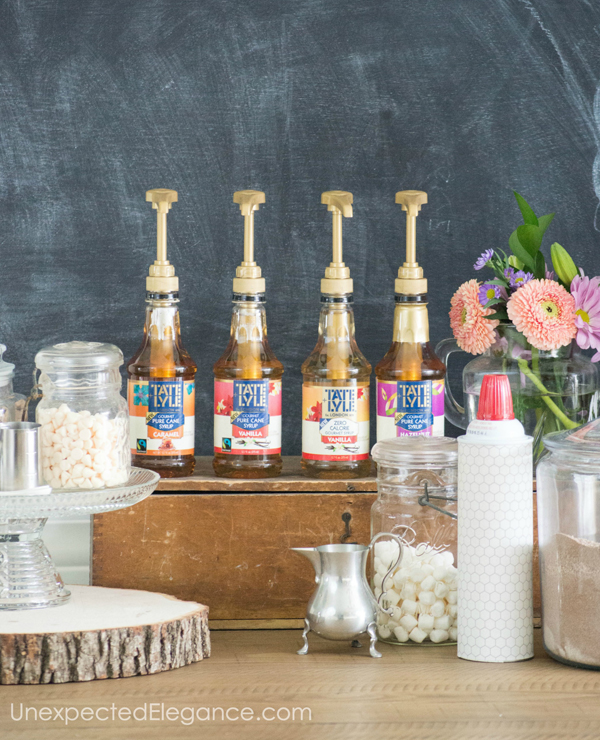 I love having a coffee/hot chocolate bar set up in our dining room.  It's great for when we have guests and convenient for us on a daily basis.  (My kids love to try different flavors of hot chocolate after playing outside in the snow during winter!)
When I'm having a big get-together I like to add to the "bar" and spread it out a little.  This set-up is perfect for a meeting or brunch!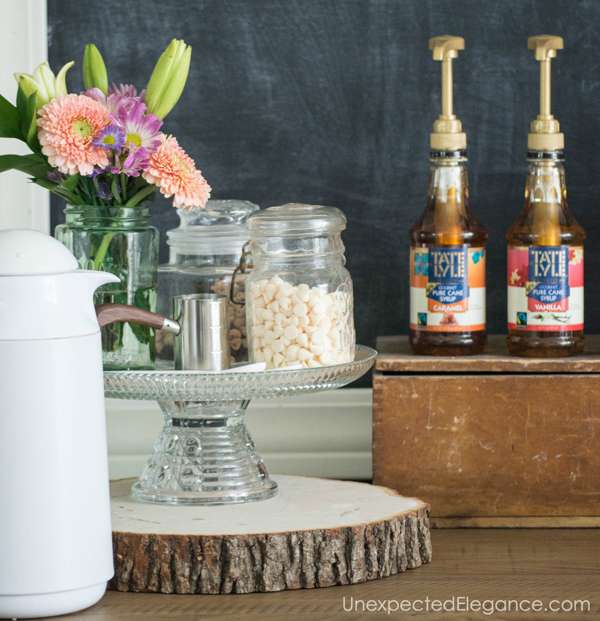 Adding height is important for any display.  I like using things from around the house, like cake stands and wooden boxes, to give some dimension to the table.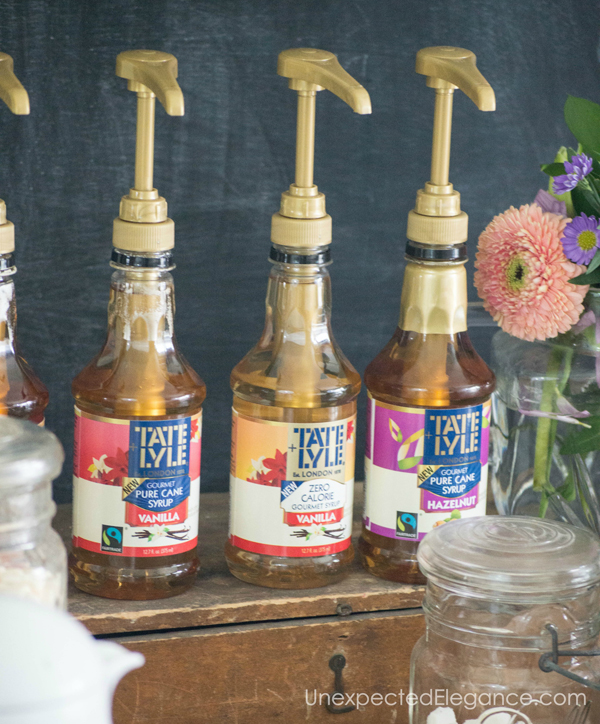 Flavored syrups are a MUST for any coffee bar…they let you enjoy café-style coffee and beverages at home!  I love this selection of Tate+Lyle® Gourmet Beverage Syrups with 4 delicious flavors to choose from:  Hazelnut Pure Cane Syrup, Caramel Pure Cane Syrup, Vanilla Pure Cane Syrup,  and Zero Calorie Vanilla Syrup.  Tate+Lyle® Gourmet Beverage Syrups blend together pure cane sugar and true vanilla, caramel, or hazelnut flavor.
I also suggest getting pumps for the syrup.  It makes serving them much easier.  You can find them online or at specialty food shops.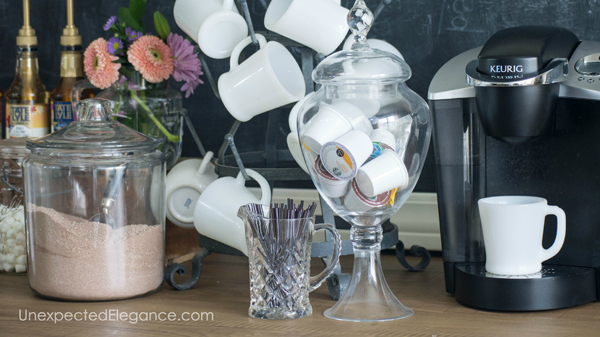 I like to have a carafe of already made coffee available, but also give people the option to prepare their own cup with different options (like decaf).  Other flavors and toppings include things like whipped cream, half and half, heavy cream, marshmallows and chocolate chips.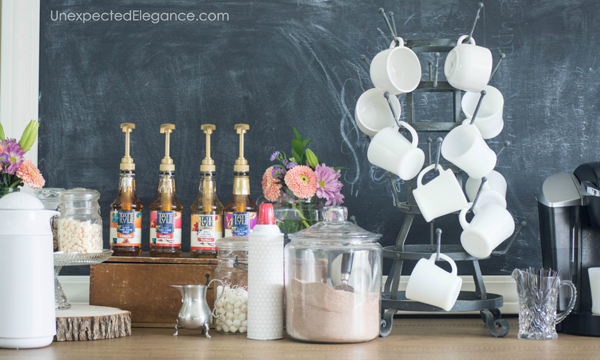 Fresh flowers finish off the bar and add some color!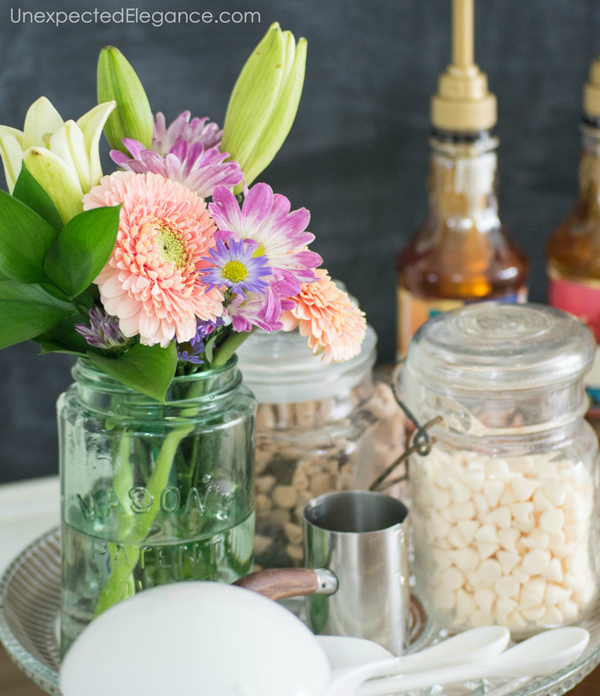 It's a good idea to have a few recipes available for your guests.  Here are a few of my favorites: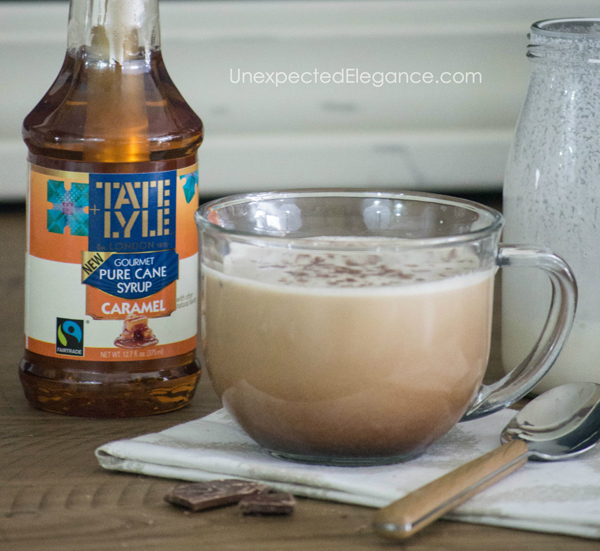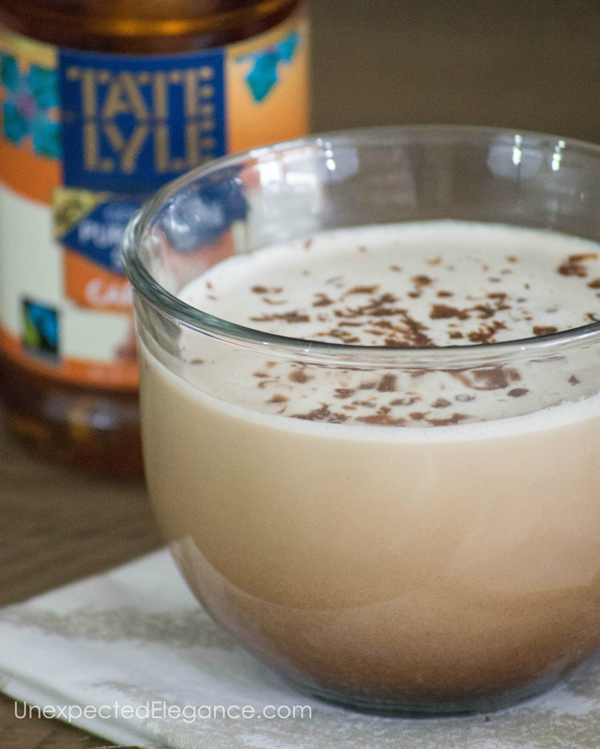 This combination of coffee and hot cocoa is so delicious, even by itself.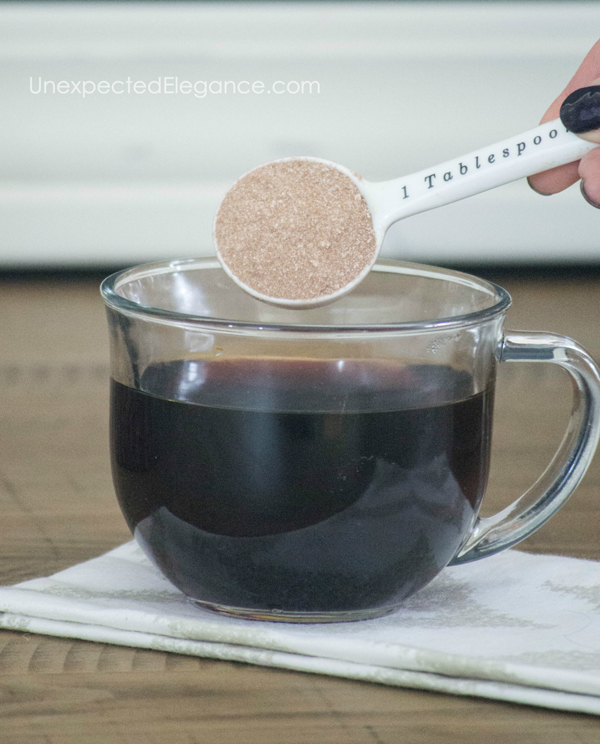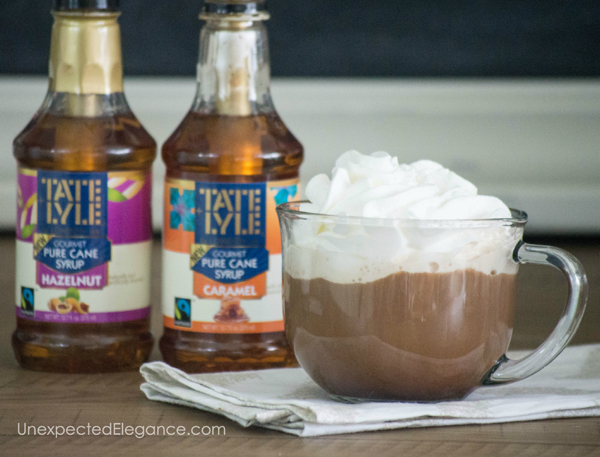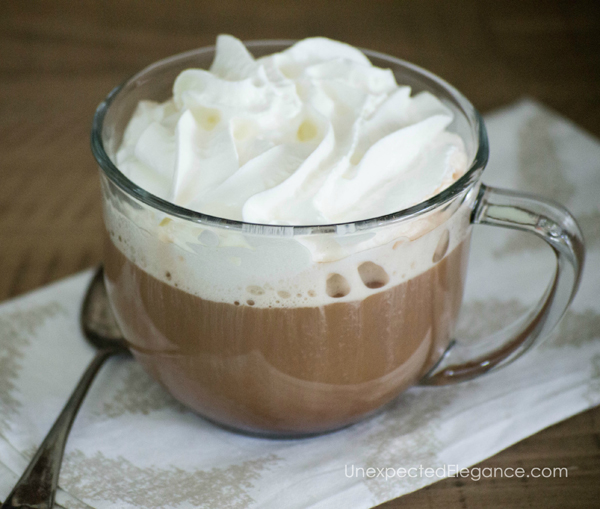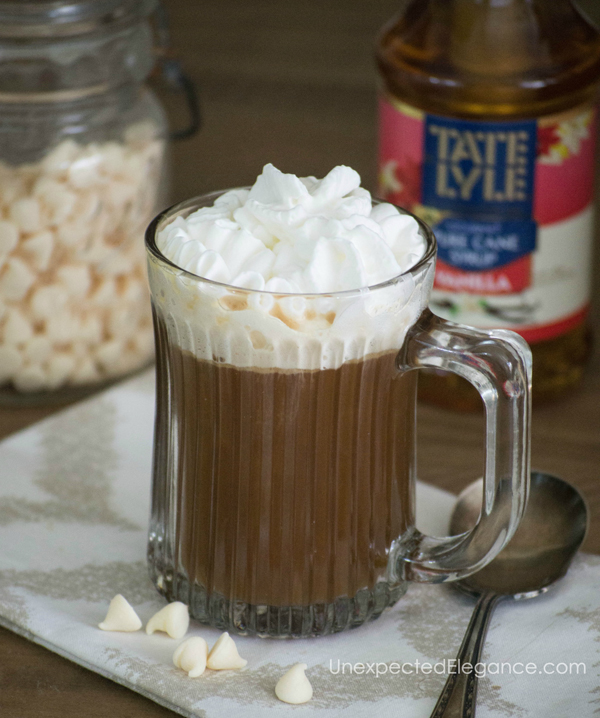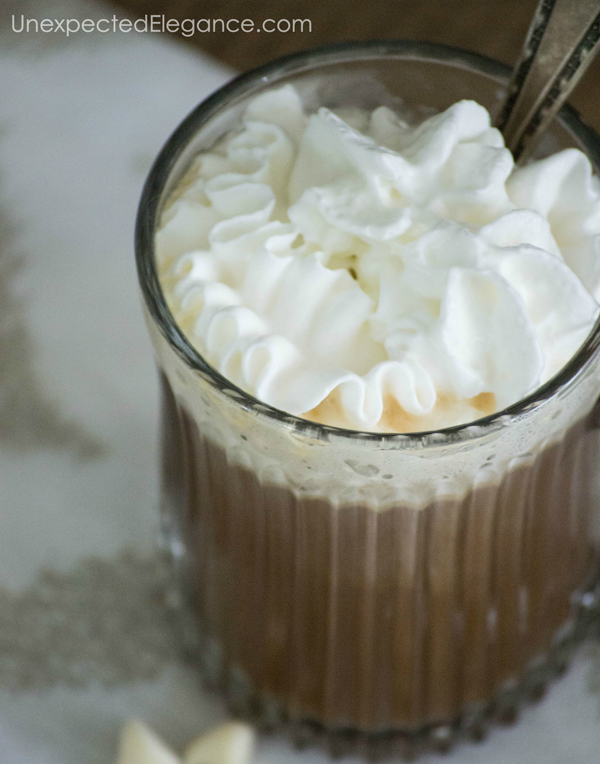 I like to make my own hot cocoa mix.  It makes a large amount and I just keep it in a large glass container.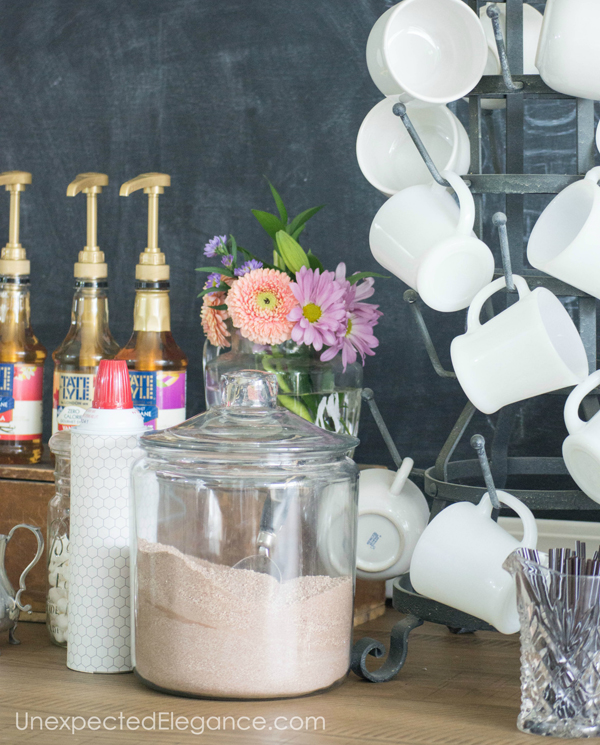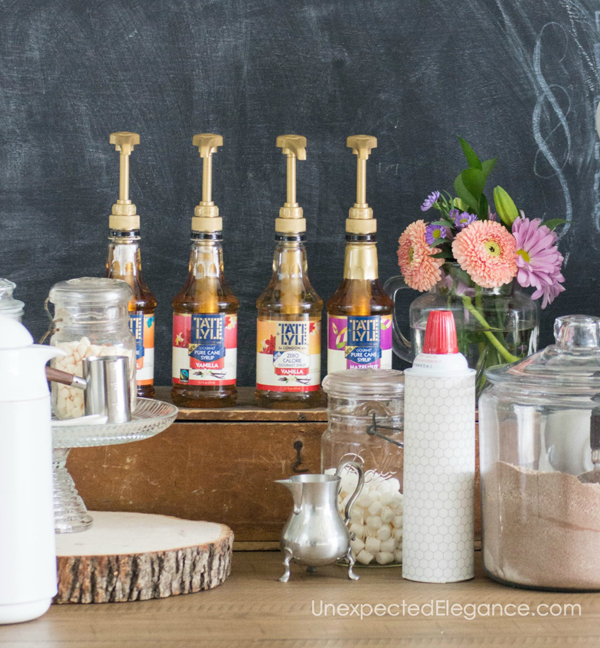 Do you have any easy, make-at-home coffee recipes you love?  Please share your secrets! 🙂
You can find locations for purchasing Tate+Lyle® Gourmet Beverage Syrups HERE.
I was selected for this opportunity as a member of Clever Girls and the content and opinions expressed here are all my own.