Here are 5 fall essential oils for your home this season, that will create the feel and smell of fall without the artificial scents!
One of the best aspects of fall is all the smells, am I right?!?!  I love my home to have a cozy and seasonal feel…which is why I like to keep my diffuser running with all the scents of fall.  Essential oils are increasing in popularity because of their amazing smell and powerful properties.  So I thought I would share 5 essential oils that are perfect for making your home smell like fall.
All of the oils I am suggesting are Young Living Essential Oils, because that's what I use and trust!
Orange will take you through fall and winter with the light scent and amazing cleaning power. Orange oil kills off germs fast and leaves your home smelling amazing when mixed with other fall scents. It's great to help fight off colds!
Clove has that deep scent that sticks with the season. Combined with orange the sweet and spice is almost heavenly. Take it up a notch by diffusing with cinnamon for that pumpkin spice fragrance everyone loves.  Diffusing clove can help with a cough and breathing issues .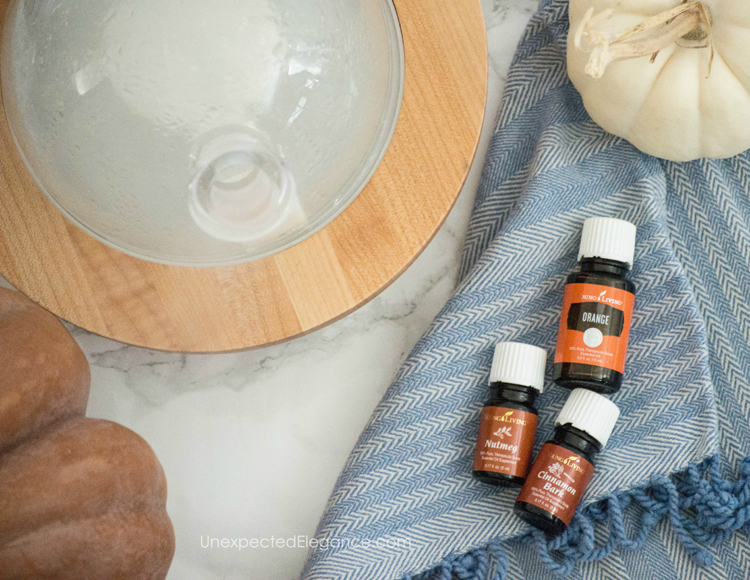 Cinnamon is by far the most common scent of fall. I'll let you in on a secret…mice like to come into houses in the fall and they  hate the smell of cinnamon. Defuse it, add it to homemade cleaners. Make your house smell like you're growing it. 😉 Not only will your home smell like fall the critters will want to stay away. Cinnamon also helps fight germs and keeps your family healthy through cold and flu season. You win!
Fir gives your home that woodsy feel. Fir essential oil is great for improving breathing making it a great choice for this time of year. Diffuse with cinnamon or make your own furniture polish by adding a few drops to olive oil. Soothe muscles by adding to a relaxing bath.
Nutmeg essential oil makes a great addition. It can be mixed with any of these other fall oils for a nice variety. Mix with orange, clove and cinnamon for a pumpkin spice scent, or just cinnamon and clove for a sweet holiday spice scent. Nutmeg is an energizing oil, so diffuse it during the day to help keep you moving!
These oils all have a fall smell and can be mixed in any way you choose leaving you with endless options for your home this fall. Each oil has use beyond just their fragrance building up your essential oil medicine cabinet.  AND if you just want a few pre-mixed combos, my favorites are THIEVES and CHRISTMAS SPIRIT!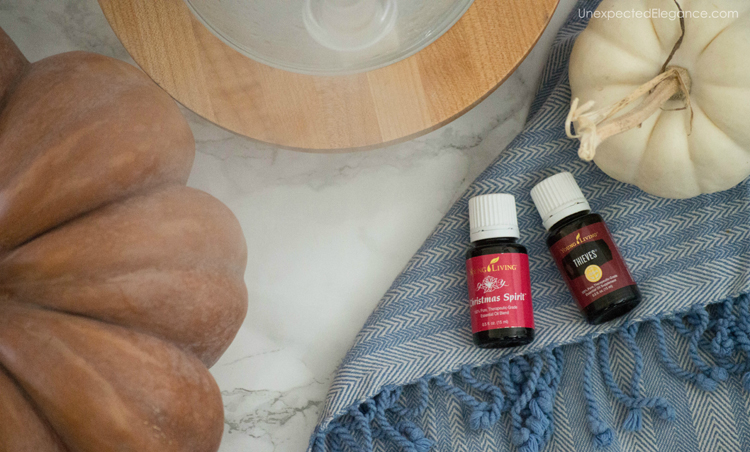 You can find out more about what essential oils I use and why HERE.