I have a confession!  I LOVE magazines.  I don't know what is about getting a new one in the mail, but it always causes excitement.  Last night I was working my way through Lucky, when it hit me…I get a ton of magazines.  My husband had made a comment about it a few weeks ago after he got the mail and there were two subscriptions and a Restoration Hardware. But at the time, I hadn't thought much about it.  The reason for pause last night was that there are stacks and stacks of them next to my bed.
The thing is, I seldom pay for them.  I get airline points that I use toward subscriptions or get them really cheap.  (Country Living was just $5, when I went to the fair this year!)  AND the best ones are the absolutely FREE …catalogs!  I can't wait to open my Restoration Hardware, Ballard and Pottery Barn to see what's new.
So I rounded up just some of my recent, meaning Feb. issues, that I could find.  There were eight and I KNOW I have more.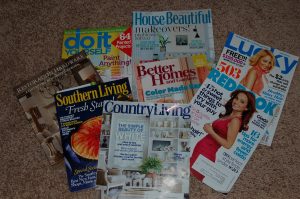 It's a bit of an obsession, but I think it is harmless.  How about you?  Got any harmless secrets you would like share with the world?
~Angela